The Chamber has been championing best practice in diversity and inclusion for several years, hosting events, publishing content and creating new opportunities to reach into the wider Singaporean community with these messages.
The Chamber operates both a Women in Business and a Diversity and Inclusion committee, providing numerous opportunities for our member companies and diversity advocates to host, speak at and attend events in topics including gender, disability, age, sexual orientation, race, culture, and religious beliefs. These are sensitive topics and the Chamber along with our contributing member companies and our Diversity and Inclusion Partner, Barclays, handle the issues sensitively and positively. Below are some examples of special projects that the committees have driven in recent years.

'CELEBRATING DIVERSITY' PHOTOGRAPHY COMPETITION
Since 2017 the Diversity and Inclusion committee has organised a social media photography contest each year, highlighting a specific theme around diversity. This competition has allowed us to take the inclusion message to the local community and engage our members, interested participants, amateur photographers and secondary school children/schools in the conversation. Finalists of the competition are featured in a desktop calendar for the year ahead and invited to a special presentation event by the British High Commissioner where the winning prizes are given. To receive a copy of the 2019 Desktop Calendar simply stop by our office or request one from the team. Click on the image below to view the finalists of the competition for this year and previous years.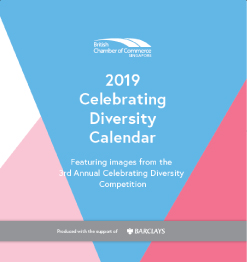 INTERNATIONAL WOMEN'S DAY
Every year the Women in Business committee organises a panel event with leading experts in gender diversity to discuss the UN theme of International Women's Day. This event, considered one of the Chamber's flagship activities in the calendar, attracts over 200 attendees in March. Look out for the next instalment of this event on 8th March 2019, book now on our events page.

'GETTING STARTED IN DIVERSITY & INCLUSION' PUBLICATION
In today's modern, multi-cultural and multi-generational society, an organisation's workforce is their greatest asset. Encouraging the right talent to apply for new positions, retaining and supporting existing employees and handling sensitive areas of employee welfare are all required skills of senior management. Published originally in March 2017, this publication addresses the key areas of substance with proven policies for success, and statements from member companies of the Diversity and Inclusion committee, provided from their own D&I statements for your benefit. The digital version is available below and print copies can be obtained from the Chamber office by request.
Click here to read 'Getting Started in Diversity & Inclusion'.
'THE PILLARS OF DIVERSITY' PUBLICATION
In 2015 the Chamber encouraged our member companies to submit their experiences and case studies to a publication covering the use cases of diversity strategies. Embracing Diversity and Inclusion has become a priority
for businesses from large MNCs to start ups. With talent pipelines becoming ever more complex and the increase in competition for the best talent, companies that have developed robust strategies have consistently seen the benefits to their bottom line.
Click here to read 'The Pillars of Diversity'.