doing business in singapore and asean
DOING BUSINESS IN ASEAN
ASEAN, with its trade links to all of the world's major economies, is projected to be the world's 4th largest market by 2030. In fact, if it was a country, it would be the 6th largest economy in the world with a combined GDP of US$2.6 trillion. As an example of the growing interest in the region, Southeast Asia's internet economy alone was estimated to have reached US$100 billion in 2018, and it is expected to triple by 2025. Coupled with the fact that more than 90% of internet users in Southeast Asia are smartphone users, this presents a sizeable market for technology firms to enter. 
In Singapore, some 45,000 British citizens live in-country and there are 4,000 British businesses already operating here, with more looking at trade or expansion opportunities. UK-ASEAN trade is worth nearly GBP £37 billion, more than Australia, Brazil, India, Japan, New Zealand, and Russia to the UK. 
To provide members with a channel to reach into South East Asian markets, we actively engage with British Chambers and Business Groups in the South-East Asian region. The geographic spread of the network provides a strong business community in the region, giving members who are already established or intend to establish themselves in South East Asia a validated third party contact to provide representation, services, information and guidance. Members of the British Chamber in Singapore are entitled to member rates for events hosted by the regional Chambers around ASEAN upon request. 
---
BRUNEI
After several years of decline, Brunei GDP has started to rise again, led by an increase in the price and production of oil and gas. The country remains heavily dependent on this sector, but is looking to diversify into a number of fields which play into the strengths of the population of 423,000 people. 
"In the year up to the end of June 2019, exports to Brunei from the UK totalled £97 million." - ONS, 2019
Industries: Petroleum, refining, liquefied natural gas, construction, agriculture, aquaculture and transportation
 
5 PRIORITY BUSINESS CLUSTERS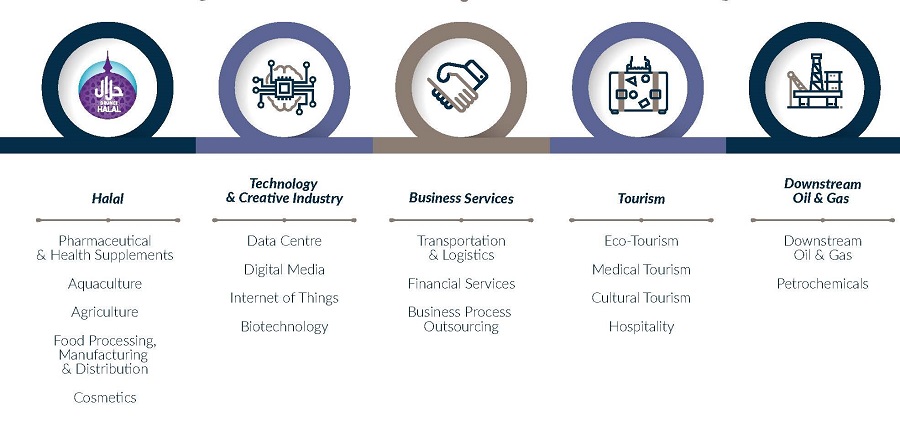 BRITAIN BRUNEI BUSINESS FORUM

The Britain Brunei Business Forum was founded under the patronage of the British High Commission in Brunei to enable British and Bruneian business people to meet together in order to further trade. BBBF assists Bruneian business people in finding British partners for enhancing both parties business performance and circulates information about opportunities for business with Britain through the Bruneian business community. The forum provides a diverse and inclusive network to build opportunities for British, international and local organisations in Brunei with ties to British business.
For more information visit www.britbrubus.com or call +673 (2) 222231.
---
CAMBODIA
Cambodia is a developing market economy with very open investment policy and real opportunities for creative entrepreneurs and dynamic businesses. Recently, Cambodia has become a lower-middle-income country and is estimated to become an upper-middle-income country by 2030.
Industries:
Tourism, garments, construction, rice milling, fishing, wood and wood products, rubber, cement, gem mining, textiles
Strengthening import market
The imports market in Cambodia has increased year on year by an average of 13.9% since 2014, and market growth is projected to continue for at least the next five years (IMF, 2019). The most popular imports from the UK are cars and machinery, and various business services. If you're a UK exporter specialising in these areas, Cambodia may represent an opportunity for you.
GDP Growth
Cambodia has experienced positive GDP growth every year since since 2014, and has been projected to continue until at least 2024. Over this 10 year period GDP per capita is projected to double (IMF, 2019), This should lead to an increase in spending power for local consumers.
BRITISH CHAMBER OF COMMERCE CAMBODIA

The British Chamber of Commerce of Cambodia (BritCham Cambodia) was founded as the British Business Association of Cambodia in 1995 by Senaka Fernando MBE. In 2013, it was officially registered as a Chamber of Commerce with the Cambodian government. They welcome all individuals with an interest in the UK and Cambodia. The Chamber currently has over 100 corporate and individual UK, international and national members.
For more information visit www.britchamcambodia.org or call +855 89 333 477.
---
INDONESIA
Indonesia is a founding member of ASEAN and the largest economy in Southeast Asia with nearly half of the region's total GDP. It is predicted to be within the world's top 10 largest economies by 2030. 
Industries:
Petroleum and natural gas, textiles, automotive, electrical appliances, apparel, footwear, mining, cement, medical instruments and appliances, handicrafts, chemical fertilizers, plywood, rubber, processed food, jewellery, and tourism
Consistent economic growth
Indonesia's GDP has continued to grow consistently each year since 2014, with a growth rate of 5.2% in 2018 (IMF, 2019). This should lead to an increase of spending power for consumers which UK businesses could benefit from.
Demand of goods and services
In the year to June 2019, the top goods exported from the UK to Indonesia were metal ores and scrap, pulp and waste paper, road vehicles, toilet and cleansing preparations and medicinal and pharmaceutical products (ONS, 2019). The top services imported by Indonesia from the UK were business, insurance and pension, travel, transportation and financial services (ONS, 2019). If you operate in any of these industries, Indonesia could be a good market for you.
BRITISH CHAMBER OF COMMERCE IN INDONESIA

The British Chamber of Commerce has been established since 1999 and builds on a British business presence that extends more than a hundred years. Over those years, they have had the pleasure of welcoming the most influential politicians, business leaders, world commentators, renowned experts in various fields and academicians as guests to over various forums. Each year, they host more than one hundred events that provide broad platforms for business development amongst their members. 
For more information visit www.britcham.or.id or call +62 21 5229453.
---
LAOS
Laos is a single-party socialist republic and has been part of ASEAN since 1997. In recent years the economy has improved with ongoing projects in mining, hydroelectrics, garment exports and tourism. The British Embassy was reopened in Laos in 2012 and the British Business Group followed shortly after.
Metallurgy is an important industry and the government hopes to attract foreign investment to develop the substantial deposits of coal, gold, bauxite, tin, copper, and other valuable metals. In addition, the country's plentiful water resources and mountainous terrain enable it to produce and export large quantities of hydroelectric energy.
Industries:
Mining (copper, tin, gold, gypsum); timber, electric power, agricultural processing, rubber, construction, garments, cement, tourism

BRITISH BUSINESS GROUP LAOS

The mission of the BBGL is to represent and support the commercial interests of its British, Lao, and international members by acting as a platform to create and promote business opportunities within the working community. The BBGL encourages trade and investment between Lao PDR and the UK, regularly sharing relevant content from both countries.
For more information visit www.bbglao.org or call +856 (0)207 802 8885.
---
MALAYSIA
Malaysia's multi-faceted economy has a thriving service and manufacturing industry that has been cultivated and fostered by foreign direct investments. With a stable political landscape, a legal and educational system compatible with the UK and economy maturity, Malaysia is a conducive environment that remains unsaturated.
Decades of growth and stability have helped make Malaysia an industrialised, relatively open economy with consistent growth (IMF, 2019). Malaysia offers opportunities across a wide range of sectors for UK exporters as demand increases for a variety of goods and services.
Young and growing population
Malaysia has a young and growing population of over 30 million consumers (World Bank, 2018). An increasingly affluent middle class is willing to pay for quality. Malaysian society is multi-cultural and muti-lingual, but English is the business language and is widely spoken particularly in metropolitan areas.
Gateway to South East Asia
Malaysia is part of the Association of Southeast Asian Nations (ASEAN), which includes Singapore, Thailand and Vietnam. Today, these four core countries represent the UK's second-largest global export destination after the United States. As a region, ASEAN is predicted to become the world's fourth largest market by 2030 (Baroness Fairhead CBE, 2018).
Industries:
Peninsular Malaysia - rubber and oil palm processing and manufacturing, petroleum and natural gas, light manufacturing, pharmaceuticals, medical technology, electronics and semiconductors, timber processing
Sabah - logging, petroleum and natural gas production;
Sarawak - agriculture processing, petroleum and natural gas production, logging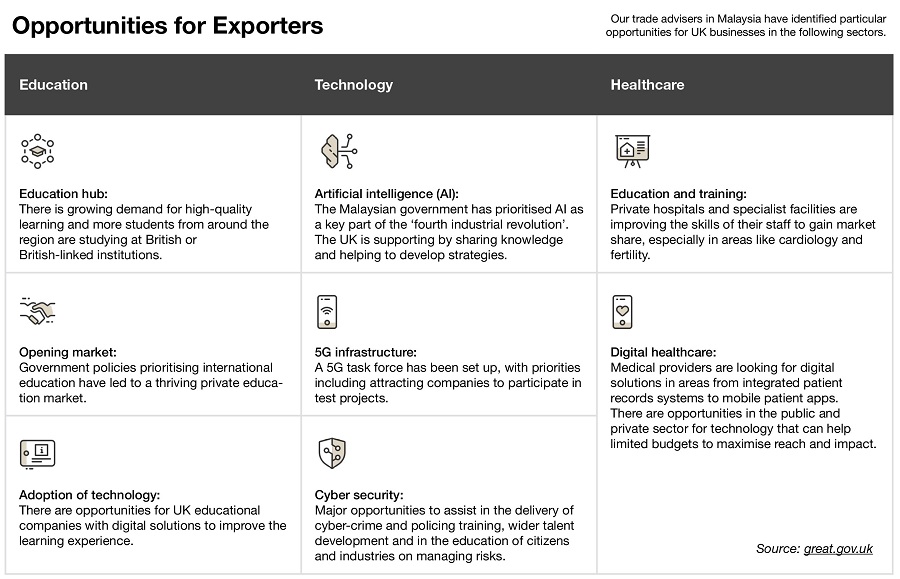 BRITISH MALAYSIAN CHAMBER OF COMMERCE

Established in 1963, the British Malaysian Chamber of Commerce (BMCC) has been driven by the sole ordinance of advancing bilateral trade relations between the UK and Malaysia. Over the past five decades, the BMCC has been a catalyst in providing Malaysian-based businesses with networking and exposure, knowledge exchange and bilateral trading support services. Today, the BMCC has firmly rooted itself as one of Southeast Asia's most prolific Chambers. 
For more information visit www.bmcc.org.my or call +60 3 2163 1784.
---
MYANMAR
Myanmar is a country of over 51 million people in a strategic location between China and India with plentiful natural resources. The country is catching up on decades of under-development which presents opportunities for British businesses in a broad range of sectors. The market remains challenging with risks which should be taken into account.
Industries:
Agricultural processing; wood and wood products; copper, tin, tungsten, iron; cement, construction materials; pharmaceuticals; fertilizer; oil and natural gas; garments; jade and gems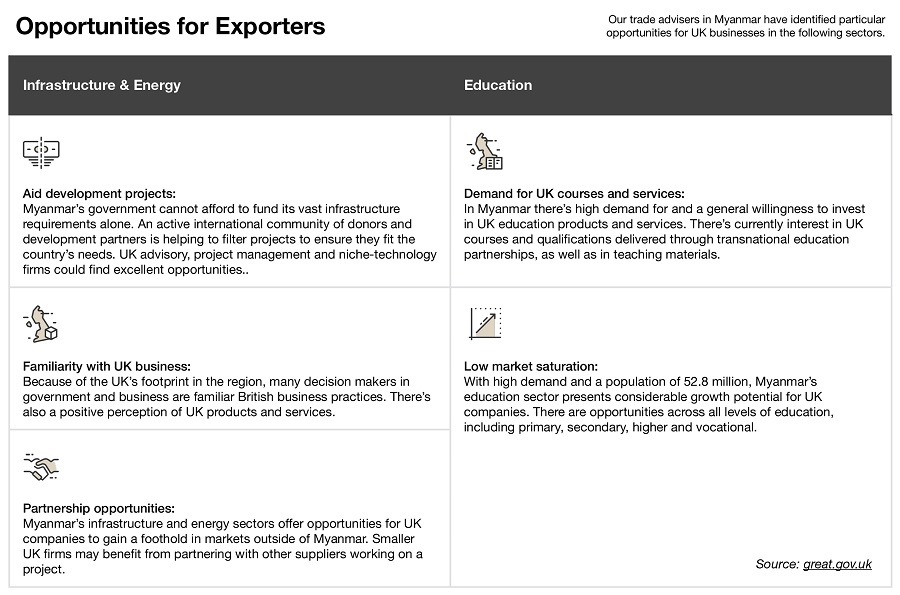 BRITISH CHAMBER OF COMMERCE MYANMAR

The British Chamber of Commerce Myanmar is an independent, non-profit membership organisation which aims to promote, support and represent business interests in Myanmar. The organisation launched in July 2014 with the support of high profile British businesses - four Founding Patrons: Shell, Jardines, Prudential and Standard Chartered Bank.
For more information visit www.britishchambermyanmar.com or call +95 1 925 3748.
---
PHILIPPINES
The Philippines offers a liberalised economy and a highly westernised culture that is receptive to UK products and services. Less than two hours flying time to Hong Kong, it is within four hours of other major Asian cities and lies astride major international shipping lanes.
Strong consumer market
Both the Philippines population and economy are growing. It also has a large number of foreign workers. These factors are helping to drive a strong consumer market, and luxury items, real estate and service consumption is growing annually. Western goods and services continue to be popular in the Philippines.
Diversified Economy
Philippines is spreading government and economic activity right across its provinces to become less reliant on its capital city. Infrastructure and transport are being improved, locations to base a business are varied, industries are diverse, and growth outside of the city is encouraged.
Industries:
Semiconductors and electronics assembly, business process outsourcing, food and beverage manufacturing, construction, electric/gas/water supply, chemical products, radio/television/communications equipment and apparatus, petroleum and fuel, textile and garments, non-metallic minerals, basic metal industries, transport equipment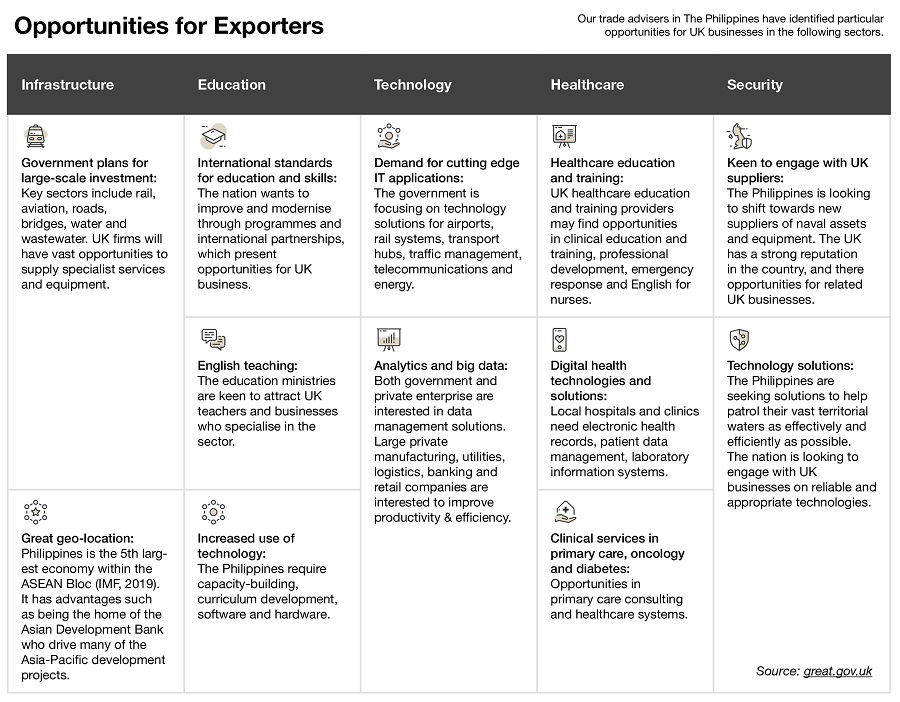 BRITISH CHAMBER OF COMMERCE OF THE PHILIPPINES

The British Chamber of Commerce Philippines (BCCP) is an independent, non-profit membership organisation whose primary objective is to support the development of its members' business and social interests in the British and Philippine communities, helping them achieve their objectives. Founded in 1997 as the British Business Association, they became a British Chamber of Commerce in 2001. Today, they represent over 270 member companies and individuals with a membership network of over 600 entrepreneurs and senior executives of multinational corporations and SMEs.
For more information visit www.britcham.org.ph or call +63 2 556 5232.
---
THAILAND
Thailand's economy is ranked in the top three within ASEAN in terms of size and volume of international trade. The country maintains an open, market-oriented economy and views foreign investment as a means of promoting economic development, employment and technology transfer.
An established export market
There are already 5,200 British VAT-registered businesses exporting to Thailand (HMRC, 2017), with openings for SMEs as well as large corporations. In the year to June 2019, the total value of UK exports to Thailand amounted to £2 billion (ONS, 2019). Opportunities for UK businesses are available particularly in the technology, e-commerce, agri-business and infrastructure sectors.
An expanding economy
The Thai economy is predicted to grow by 3.5% in 2019, following 4.1% GDP growth in 2018 (IMF, 2019). This combined with consistently low inflation and unemployment figures (IMF, 2019), should lead to the increased spending power of the country's population which could favour UK exporters. Import levels have risen significantly at the same time, with increases of 6.2% and 8.6% recorded for 2017 and 2018 respectively (IMF, 2019).
Access to new markets
Thailand's geographical setting makes the country a hub for UK businesses looking to access opportunities in the Greater Mekong sub-region. It's a good strategic location for exporting to Laos, Cambodia, Myanmar (Burma) and southern China. 
Industries:
Tourism, textiles and garments, agricultural processing, beverages, tobacco, cement, light manufacturing such as jewelry and electric appliances, computers and parts, integrated circuits, furniture, plastics, automobiles and automotive parts, agricultural machinery, air conditioning and refrigeration, ceramics, aluminum, chemical, environmental management, glass, granite and marble, leather, machinery and metal work, petrochemical, petroleum refining, pharmaceuticals, printing, pulp and paper, rubber, sugar, rice, fishing, cassava
In the year to June 2019, the total value of UK exports to Thailand amounted to £2 billion - ONS, 2019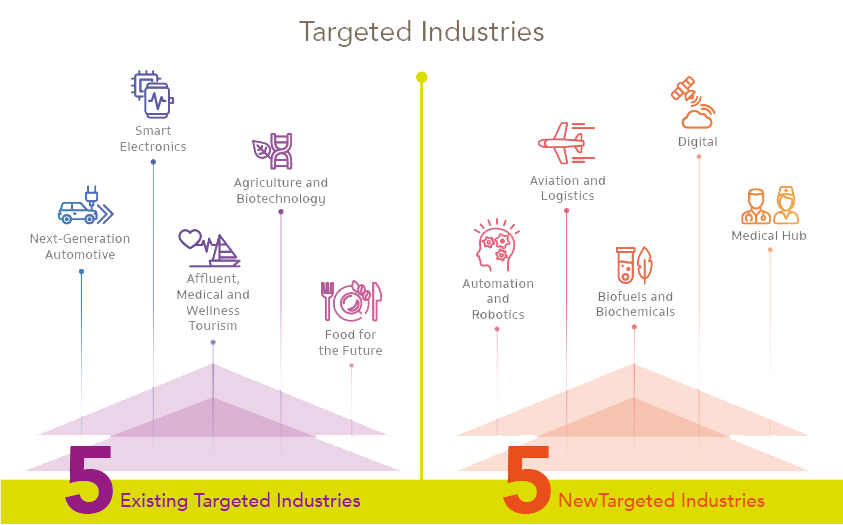 BRITISH CHAMBER OF COMMERCE THAILAND

Founded in 1946, the British Chamber of Commerce Thailand (BCCT) is the oldest foreign chamber and the largest non-Asian foreign chamber in Thailand. In addition, it is the largest and oldest British Chamber in Asia. At its inception there were 17 founding British members and three associate members. The BCCT has a seat on the Board of Trade of Thailand and is active in representing members' interests on the Joint Foreign Chambers of Commerce Thailand. BCCT is actively supporting the establishment of the European ASEAN Business Centre in Thailand.
For more information visit www.bccthai.com or call +66 (0) 2651 5350.
---
VIETNAM
Vietnam has one of the fastest-growing, vibrant economies in the region. There is a large, young population and a growing middle class. The economy is vibrant and growing fast, and government reforms will open up markets for UK companies (IMF, 2019).
Growing economy
Vietnam grew 7.1% in 2018 (IMF, 2019), the highest for a decade (World Bank, 2019).
Open to international business
Vietnam has moved up the World Bank's ease of doing business rankings in recent years. The government is making changes that will open the country up to foreign businesses.
Industries:
Food processing, garments, shoes, machine-building; mining, coal, steel; cement, chemical fertilizer, glass, tires, oil, mobile phones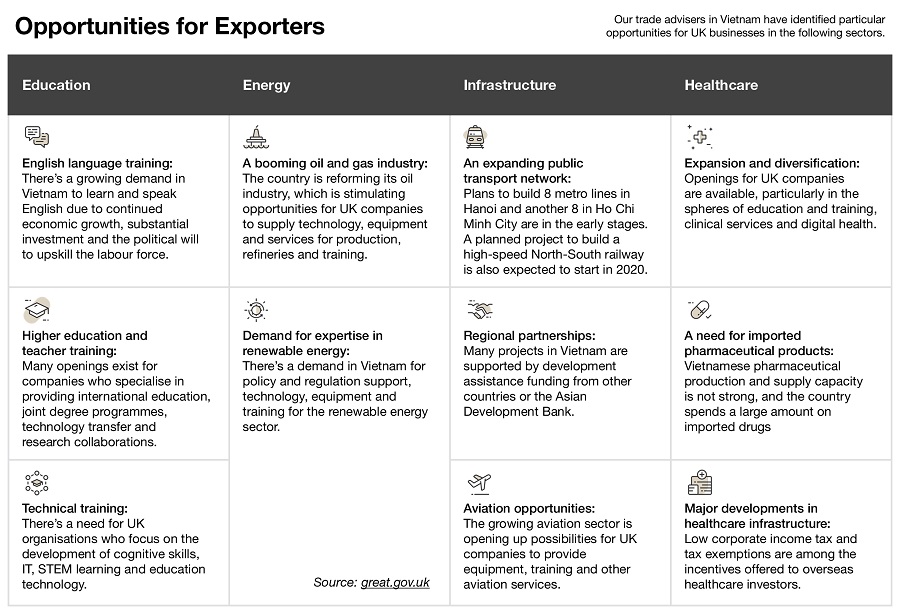 BRITISH CHAMBER OF COMMERCE VIETNAM
The British Chamber of Commerce Vietnam ("BritCham Vietnam"), started as a luncheon club in 1991. We became the first ever Foreign Business Group to obtain formal recognition in Vietnam in 1998. BritCham Vietnam now boasts more than 500 members. BritCham Vietnam's main objective is to promote our members' business interests in Vietnam, through various business and social events.
For more information visit britchamvn.com or call +84 (28) 3829 8430.