Our Year in Review - the Women in Business Committee
Chair: Luciana Vichino // Co-Chair: Wanying Lim
WiB started the year with an intimate roundtable on Financial Empowerment and Literacy mainly targeted at women with practical tips on achieving financial independence. As the life-changing consequences of COVID-19 affected all countries and individuals dramatically, WiB hosted their second event on Positive Psychology for Challenging Times. We felt that it was important to build on collective resilience by learning practical tips on reframing negative mindsets and challenging emotions.
Our annual International Women's Day flagship conference event was hosted virtually over three sessions in seven days. To begin, we enjoyed the data and research provided by Mercer and analysed the day-to-day challenges of navigating gender parity. Mercer's When Women Thrive research 2020 emphasised the
importance of education, work culture, middle management, and the important role of men has to play in moving the needle forward. For our second session, we featured Commander Martin Moore, Defence Advisor for the British High Commission Singapore who hosted a discussion with the much-acclaimed Commissioner of the London Fire Brigade, Dany Cotton. Dany rose through the ranks of one of the most male-dominated industries in the UK. In an inspiring and humble presentation, we learned how Dany Cotton became a leader and role-model, not by mirroring the attributes of her male colleague to 'fit into' an existing culture but working & leading with authenticity with a belief in her skills and experience – even during the hardest times. In doing so, Dany gave enormous value to an organisation where your 'culture' and team-dynamics can have the highest of consequences. For our final event, we hosted a panel event focused on "Quotas, a blessing or curse", featuring Low Peck Kem (Government CHRO), Naveen Menon (President, SEA, Cisco) and Prof. Veronica Hope-Hailey, (Dean of School of Management, University of Bath) facilitated by Lewis Gerrard, a leader of People-Science at Mercer. While the implementation of a quota system is not an innovative idea, it has helped some companies, whilst others have tentatively adopted it or are still addressing the uncomfortable question of whether it will help or hinder. Not all the panelists agreed but one thoughtful conclusion was: "I don't like quotas but I'm disappointed in our progress without them". A vote before and after the discussions showed 25% of the audience swung their vote in favor of implementing quotas. That said, implementing quotas is not an absolute solution to creating fair opportunities for all genders, but a firm means to 'open gates' which may have otherwise been shut. Evolving cultural and societal influences and perceptions in the workplace are key to making a longer term change.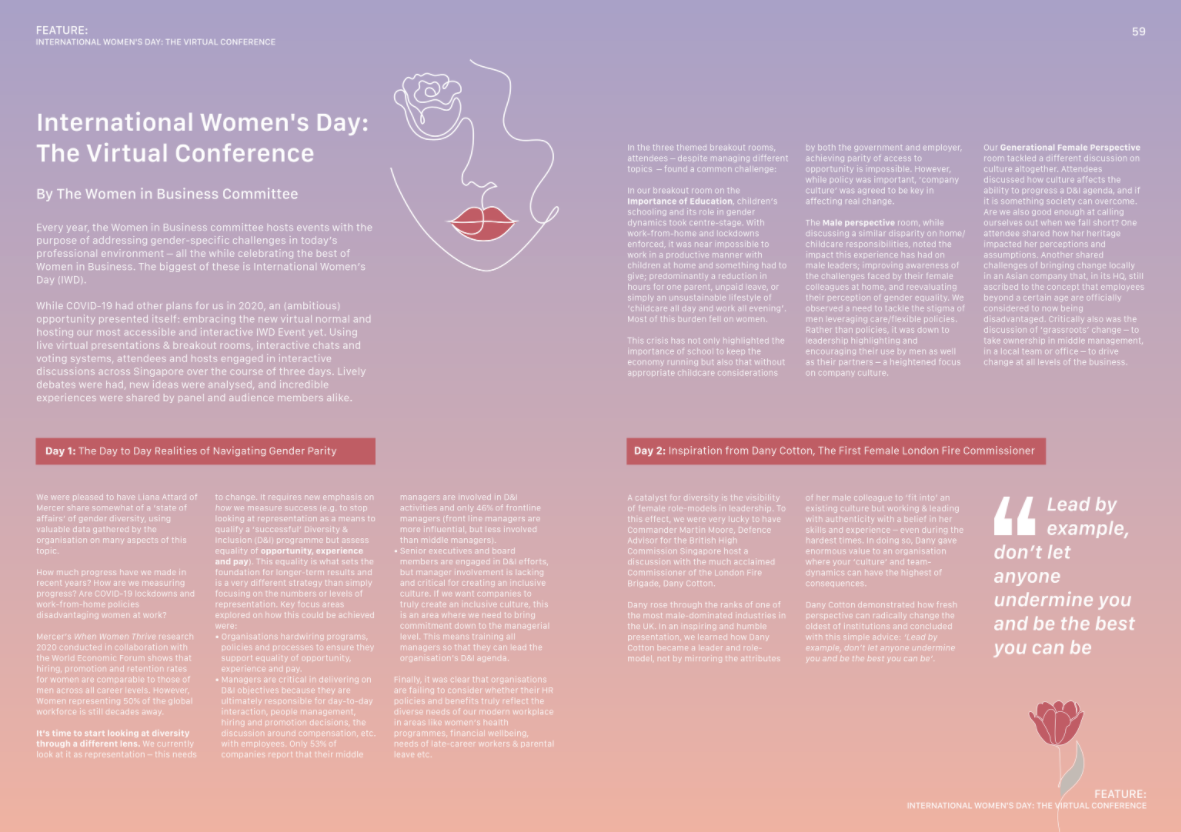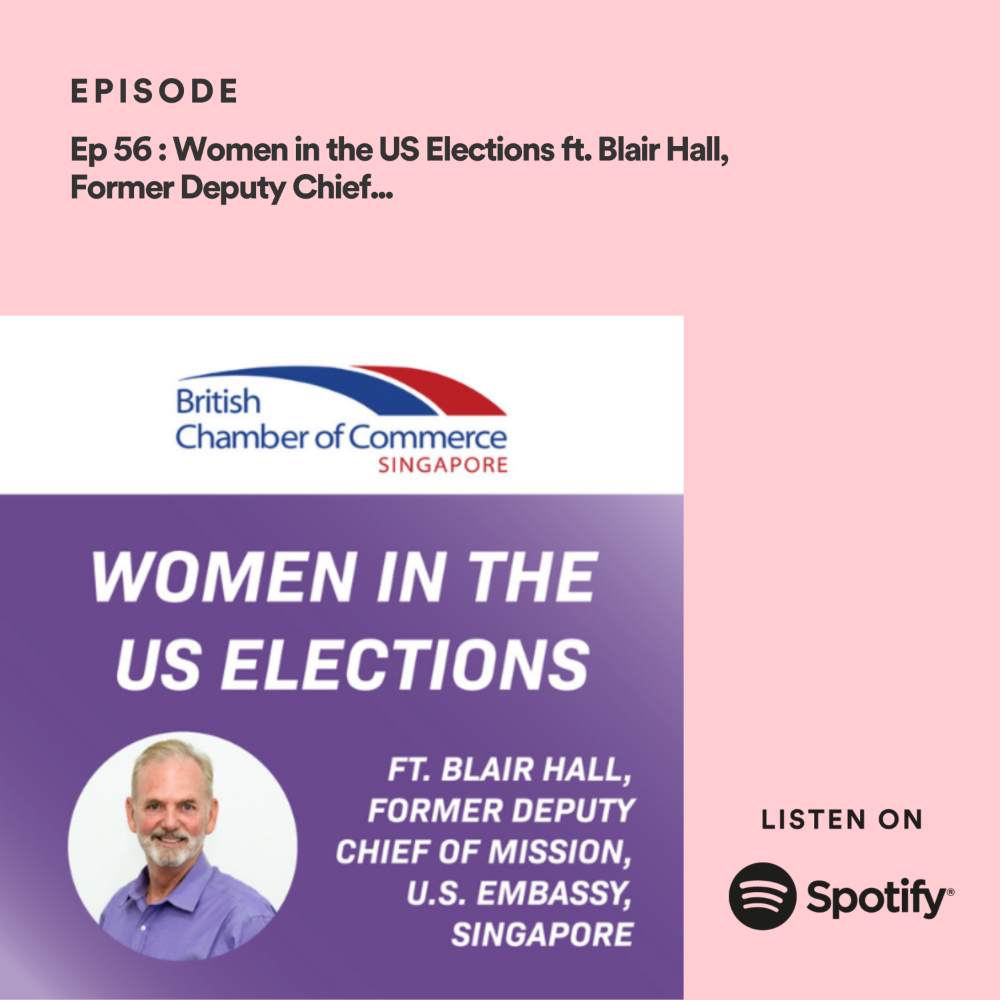 For 2021 WiB plans to keep its provocative approach to relevant topics and support individuals and companies in moving the needle on gender more significantly. Using an approach that covers relevant research and data, individual aspects and the corporate interest, our focus on events will continue to be on maximising impact by having fewer events with punchy topics and larger audiences. Small groups to allow for discussion on specific topics will also be organized as we see fit and the conversations progress. Topics such as Female Education and Development, Culture, Generational Perspectives and the Male Role will be at the center of our events supporting WiB main pillars.
Find out more at britcham.org.sg/committees/women-in-business.