BritCham members meet with the Rt Hon Amanda Milling MP, Minister of State (Minister for Asia)
On Monday, October 12, 2021, the Rt Hon Amanda Milling MP, Minister of State for Asia at the FCDO took time out of her busy visit to Singapore to meet with a representative group of our Board, Sterling Members and Partners. Thank you to our colleagues at the British High Commission for helping to organise this discussion.

Our President Richard Warburton moderated the conversation on trade, opportunities for the UK, the levelling-up agenda and COP26, which was supported by Her Excellency Kara Owen CMG CVO, British High Commissioner to Singapore, and Her Excellency Natalie Black CBE, Her Majesty's Trade Commissioner for Asia Pacific. We are grateful for such opportunities to provide a platform for our business community to meet with UK Government representatives, and for businesses in turn to share their thoughts on the opportunities and challenges in this region.

Find out more about the UK's trade activities and how we support British businesses to export on our Future of Trade Information Hub.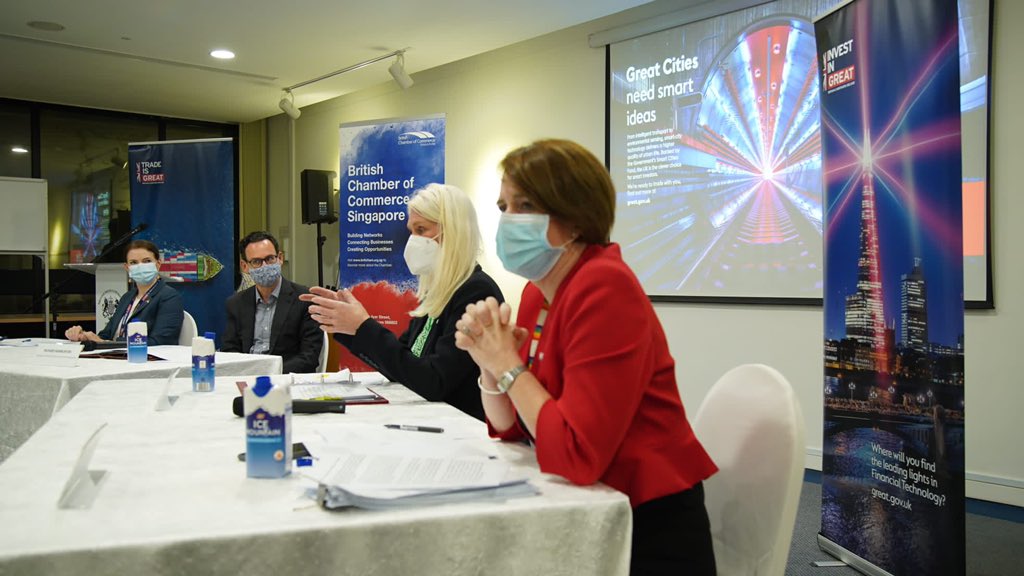 L-R: H.E Natalie Black CBE, Her Majesty's Trade Commissioner for Asia Pacific; Richard Warburton, BritCham President; The Rt Hon Amanda Milling MP; H.E. Kara Owen CMG CVO, British High Commissioner to Singapore
---
The UK and Singapore continue to be fertile grounds for business development, bolstered by the 🇸🇬 free trade agreement. I had a productive meeting with @britchamsg and other business representatives, learning how we can advance our priorities in digital trade. pic.twitter.com/4RYwjbvdYM

— Amanda Milling (@amandamilling) October 11, 2021
It was an excellent chance for you to meet the highly focused and impactful @britchamsg. https://t.co/2qGshWJVSA

— Kara Owen (@karaowen) October 11, 2021