British chambers commerce international trade summit
British Chambers of Commerce International Trade Summit
10-17-2019 8:30 AM - 10-17-2019 5:00 PM
The British Chamber of Commerce Singapore is an International Affiliate Chamber with the British Chambers of Commerce in London. 
The BCC International Trade Summit on 17th October 2019 will bring together over 500 new and established UK and overseas businesses, representing a wide range of sectors for an invaluable day of practical advice and guidance on growing their international trade activity. Businesses will walk away armed with the knowledge, insight, inspiration and confidence to harness opportunities for trade that will directly help them to realise their international aspirations. The day will consist of inspirational keynote speeches, engaging panel debates and case studies with experienced and growing companies on a range of themes most relevant to international trade and business. There will also be ample opportunities to connect, meet and network.
The event format will include exhibition stands/showcases, B2B meet and greet sessions, keynote speeches, panel discussions, workshops and networking.
The audience for the event will comprise of:
Over 500 companies from across sectors
International businesses from all sectors
High-growth British companies interested in new markets
British brands with an international presence
Companies from abroad with an interest in the UK market
UK chambers of commerce and their members
British chambers and business groups located across the world
Business and international trade support organisations from the UK and around the world
The themes for this year include:
Getting goods across borders at a time of uncertainty
How will changes in Britain's trade policy relationships impact on your business
The changing nature of global supply chains and the impact on exporters and importers
As the British Chamber in Singapore is part of the BCC Global Business Network, we have received an allocation of complimentary tickets to the event for member companies only who wish to grow their business internationally, particularly exploring the UK market. To register for a complimentary pass visit www.britishchambers.org.uk/events/international-trade-summit before 9th September 2019 and enter the promotional code OVS25. Once the allocation is fully redeemed, full fees will apply. The complimentary ticket does not include travel costs.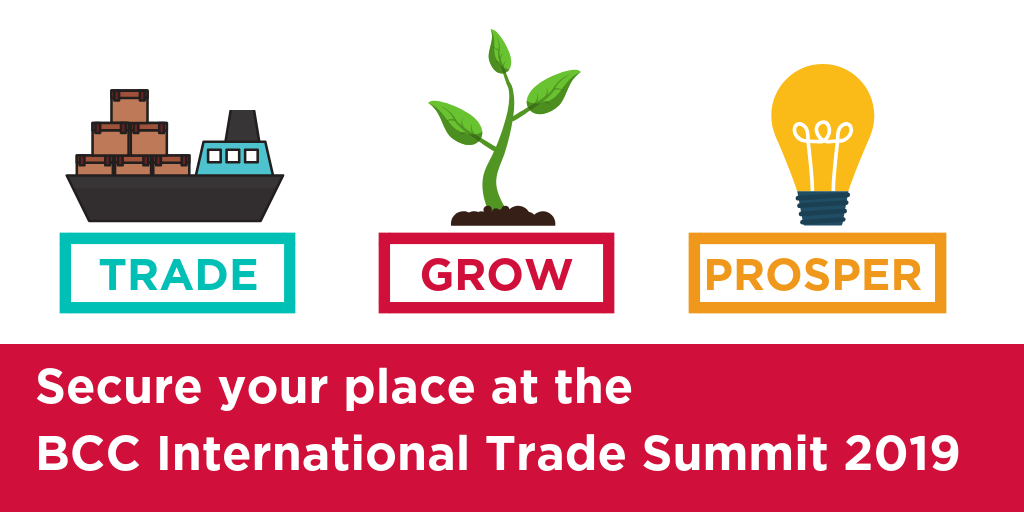 Venue Name
Hilton Bankside, London
Venue Address
2 Great Suffolk Street, London SE1 0UG