All That Matters 2022
26-09-2022 8:00 AM - 28-09-2022 6:00 PM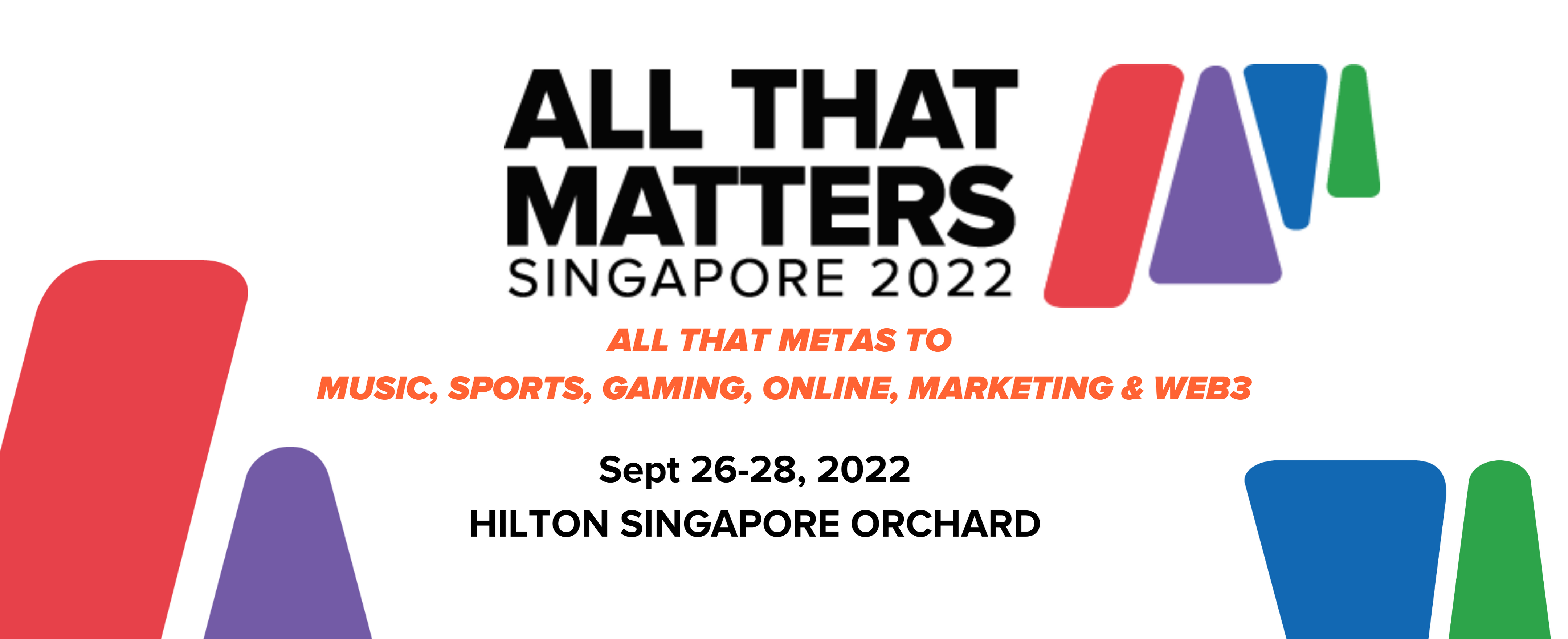 The British Chamber is a Media & Event Partner once again for All That Matters as the 3-day event returns in-person to Singapore.
What's new at All That Matters 2022?

EVERYTHING!

New Venues, New Speakers, New Theme, New Tracks, New Logos, New Faces, New Connections

New Theme/New Tracks!
In case you missed the announcement, All That Matters is back at the start of the Singapore Formula 1 Grand Prix week 26-28 September 2022 as we bring the global Music, Sports, Gaming, Marketing and Digital Entertainment industries together with a lot of our new decentralised, crypto, NFT and Web3 friends under the theme of "All That METAS"

New Speakers!
Our first round Speaker line up includes leadership from TikTok, Unilever, Animoca Brands, International Olympic Committee, Universal Music, YouTube, True Global Ventures, HTC, Accenture, BOLT,  Meta, Activision Blizzard, Nielsen, Gold House, Amplified Intelligence, Global Esports Federation, NODWIN Gaming, SailGP, Wunderman Thompson, WFA, Web3 Marketing Association and many more. Please feel free to check out our speaker lineup HERE
New Venues!
This year we're taking over the newly-opened Hilton Singapore Orchard for the main conference and networking PLUS will be next door at Singapore's youth and arts hub *SCAPE for no less than THREE different academies designed to level up next Gen business leaders and creative stars. And we're outside the race track so access is easy!

With New Connections we hope you will have more meetings, with more content and more to share, we will provide New Entertainment and more FUN than ever before

New Ticket Prices to help everyone join.
BritCham members get 15% off the pre-agenda rates when you book during July! Use code BRITCHAM22 when booking. 
Speaker
Yat Siu, Co-founder and Chairman, Animoca Brands
Dallia Herrtage, VP Global Media & Partnerships, Unilever
Ole Obermann, Global Head of Music, TikTok & Bytedance
Wendy Ong, Global President, TaP Music
Paul J. Foster, CEO, Global Esports Federation
Karen Nelson-Field, Founder & CEO, Amplified Intelligence
Sir Russell Coutts, CEO, SailGP
Lee Trink, CEO & Co-Owner, FaZe Clan
Kevin Lin, Co-Founder and CEO, Metatheory Inc.
Dusan Stojanovic, Founding Partner, True Global Ventures
Jon Vlassopulos, Managing Partner, A-Force Ventures
Jefferson Slack, Managing Director ‑ Commercial and Marketing, Aston Martin Aramco Cognizant Formula One Team
Alvin Graylin, China President, HTC
Patrick Moxey, President, Helix Records / Ultra Publishing
Vincent Pereira, Head of Virtual Sports & Gaming, International Olympic Committee (IOC)
Willem Dinger, Global Director - Brand Partnerships / Web 3.0 / Gaming, Unilever
Bing Chen, Chairman & CEO, Gold House
Suresh Balaji, Founder, Web3 Marketing Association
Christel Quek, Co-Founder, BOLT Global
Paul Chen, Head of Strategy and Business Development, Activision Blizzard
Allan Phang, Chief Marketing Officer, Galaxy Racer
Devraj Sanyal, MD & CEO - India & South Asia, Universal Music Group
Rich Robinson, Entrepreneur-in-Residence, Animoca Brands
Carlos Alimurung, CEO, ONE Esports
Esther Nguyen, CEO, POPS Worldwide
Caspar Schlickum, Managing Director, Accenture Song Growth Markets
Akshat Rathee, Co Founder and Managing Director, NODWIN Gaming
Hazel Savage, VP, Music Intelligence, Musiio by SoundCloud
Mandar Thakur, COO, Times Music
Evelina Lye, Founding Member, UNTAM3D
Justin Peyton, Chief Transformation Officer, Wunderman Thompson
Priya Dewan, Founder & CEO, Gig Life Pro
Erica Kerner, CMO, SailGP
Scott Levy, Executive Vice President & Managing Director, NBA Asia
Ranji David, Director - Marketing Services, World Federation of Advertisers
James Miner, CEO, MinerLabs
Loron Orris, Founding Partner, Asia Sports Tech
Sally Coleman, Musician/Creative Director, Big Sand
Mike Kerr, Managing Director - Asia Pacific, beIN Asia Pacific
Unmish Parthasarathi, Founder & Executive Director, Picture Board Partners
Jasper Donat, CEO, Branded
Venue Name
Hilton Singapore Orchard