Our Year in Review - the Energy & Utilities Committee
Chair: Tim Rockell // Co-Chairs: Allard Nooy, Mark Florance
The Energy & Utilities (E&U) Business Committee entered 2020 full of positive energy off the back of our last event of 2019 on The Future of Electrification in ASEAN that covered developments across the value chain including Renewable Energy, Hydrogen and Storage systems. It is great to see that we carried that energy throughout 2020 with in-depth sessions bringing together the UK sector with Singapore and ASEAN. We continued to reach out across the finance community as we search for solutions that can scale in the region.
We took the opportunity to broaden the Committee welcoming additional members including representatives from AON (Risk Management & Insurance), Arup (Engineering & Consultancy), the Carbon Trust (consultancy focussing on sustainable, low carbon future) and Lloyd's Register (provider of classification, compliance and consultancy services to the marine and offshore industries).
This year has been prolific in terms of activity with each of these new members contributing to E&U activities. The overarching theme in 2020 for the Chamber was, and continues to be, The Road to Net Zero in recognition of the countdown to COP26. Most of our events during the year fell within this theme. In addition, we were very keen to promote collaboration across the other Committees of the Chamber as well as connectivity with the energy sector in Singapore.
Events included: Decarbonising Shipping, with further sessions organised by with the Energy Institute; Financing the Energy Transition Post COVID-19, which took an excellent look at the likely funding available after fighting the pandemic; Energy & the Circular Economy held with the CEO of Infrastructure Asia, which included useful case studies; Enabling a Hydrogen Economy, showcasing the UK testbeds; and Waste to Value, with a focus on financing projects in ASEAN. Committee member organisations contributed speakers to the Chamber's Future Cities campaign. Many of our activities were followed up with in-depth articles in the Orient magazine. 
Additional outreach was garnered on Money FM 89.3, Power 98, The Straits Times and the Chamber's successful podcast series.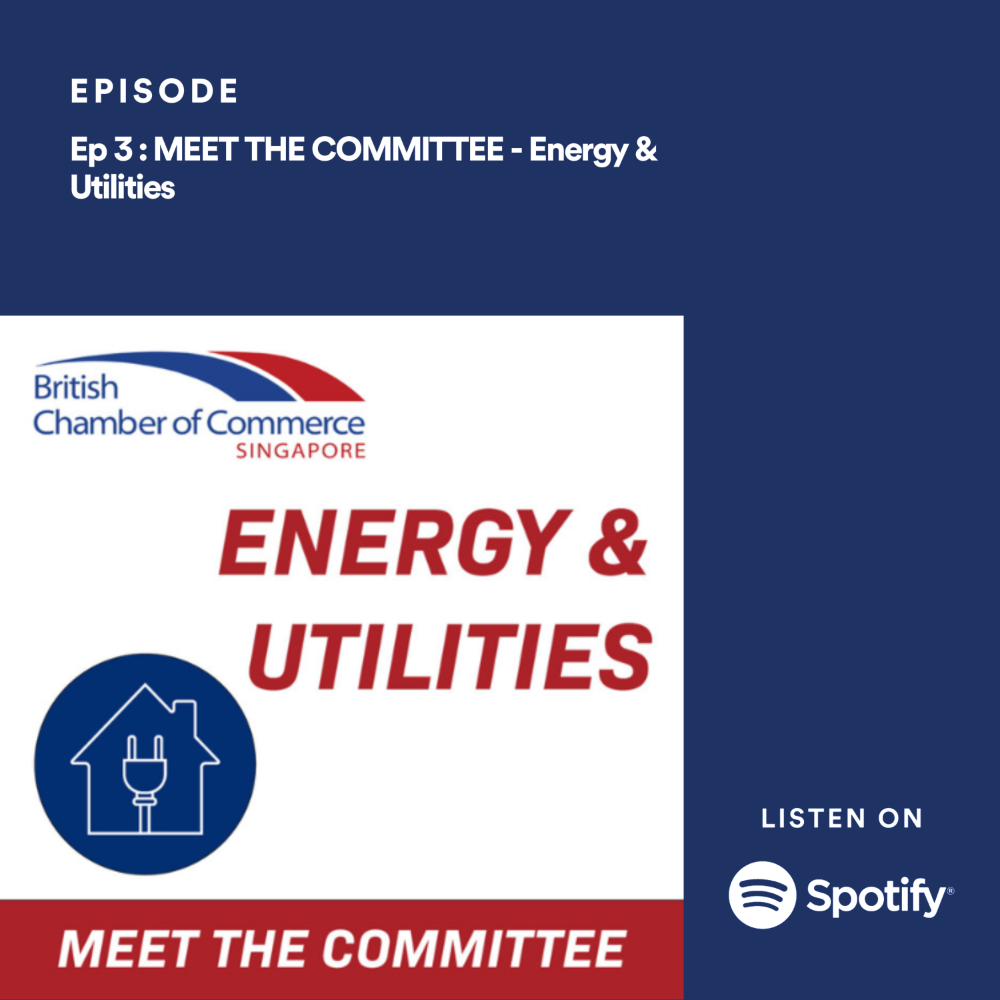 The Chamber is a partner of the flagship Singapore International Energy Week (SIEW) organised by the Energy Market Authority. In 2020 E&U contributed to a SIEW lead-up session on the Sustainability of Refining and Petrochemicals. At the SIEW itself, BritCham E&U was visible moderating a plenary session on building a low-carbon economy and running a SIEW ThinkTank on 'COP26 - the next 12 months - Realities and Opportunities of Decarbonisation'. This session with three panels led by Peter Godfrey, Allard Nooy and Thomas Briault brought together ASEAN regional and UK industry leaders in energy from across government, industry and finance and showcased live testbed projects happening now in the UK and Europe. Kara Owen CMG CVO, British High Commissioner to Singapore delivered the opening address.
Committee members span the energy value chain with representation from the energy, power, banking, funds and insurance segments. In addition, there is representation from the consulting, legal, technical and classification firms as well as professional industry bodies. There is also valuable input from the British High Commission and DIT. It is great to see that many companies/members on the E&U Committee have dual representation on the Sustainability Committee allowing
us to collaborate on several events in 2020. E&U additionally partnered with the Transport Logistics & Supply Chain, Financial & FinTech and the Built Environment Committees in 2020. Congratulations to long-serving Committee members Allard Nooy, CEO of InfraCo Asia Development and Mark Florance from Climate Investor One as our new Co-Chairs. The Chamber thanks outgoing Co-Chair Bree Miechel for her outstanding contribution to the Committee and Chamber. Tim Rockell, was re-elected Chairman of the Committee for an additional two-year term. Additional thank you to the E&U Committee members from BP, KPMG, Reed Smith, Shell, Societe Generale, and Watson Farley & Williams who all contributed to a successful 2020 for E&U.
As we enter 2021, we look forward to strengthening our connections across ASEAN with other British Chambers and businesses and to the UK in the months leading up to COP26 and driving activity aligned to the Chamber's 'Road to Net Zero' cross-committee collaboration. Activities planned for 2021 and keeping the COP26 focus areas in mind (Energy, Transport, Nature-based solutions, Adaptation and resilience, and tying it all together with Finance) include: Decarbonisation of Aviation; Energy efficient Data Centres; Carbon Capture Utilisation; and Storage and Nature-based solutions. Stay in touch and join our events in 2021.
Find out more at britcham.org.sg/committees/energy-and-utilities.